Daniel Lingwood, Principal Investigator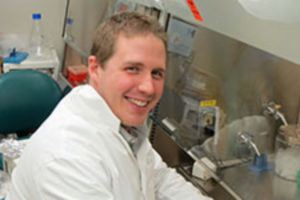 Daniel Lingwood was born and raised in Toronto, Canada. He studied physiology at the University of Guelph (BSc) and completed his MSc examining the role of membrane lipids in regulating ion transport ATPases. His subsequent doctoral work at the Max Planck Institute for Molecular Biology and Genetics in Dresden, Germany, helped to define the Lipid Raft property as a cell membrane subcompartmentalization principle. As a post-doctoral fellow at the Vaccine Research Center of NIH, Daniel further explored the ability of membranes to 'alosterically' modulate surface recognition processes now in the context of B cell activation by Influenza virus. This lead to the discovery that humans possess genomically-encoded antibody sequences that when properly oriented at the membrane surface, engage conserved sites of viral vulnerability and serve as substrates upon which broadly neutralizing antibodies can be developed.
Now as an Assistant Professor in Medicine at Harvard Medical School, Daniel uses membrane structure and function as a means to define B cell antigen recognition and inform vaccine design.
Larance Ronsard, Postdoctoral Fellow
Faez Nait Mohamed, Postdoctoral Fellow
Daniel Tapia, Postdoctoral Fellow
Maya Sangesland, Postdoctoral Fellow
Rebecca Ursin, Postdoctoral Fellow
Vintus Okonkwo, Technologist
Thalia Bracamonte Moreno, Research Technician
Nathania Kumara Hartojo, Research Technician